I've finally relocated, and things are slowly returning to normal. Moving to a new country is not for the faint of heart. I won't spend much time describing the actual 7 circles of hell we've been through, but I will note this:
Be very careful when selecting the company to help you move. Find one that comes highly recommended by someone you know. Picking someone that seems reputable on the internet, let's say Pearson Home Moving, may not be the best idea.

Be very precise in all your wording, and when you find something in the contract that you think is in error – do not let the moving company representative just gloss over it.

Example:
Me: Hmm, it says ground floor here, but that is not correct. I don't know the exact labelling of the floor, but it's first or second, maybe even third.

Moving company representative: Is there an elevator there?

Me: Yes, there is.

Moving company representative: Then it does not matter.

Hint, it did matter in later communications.

The moving company dropped my piano whilst moving it from my house, badly scratching it on one side. I am still trying to make Pearson understand that they are liable for the damage and the roughly 3000CHF in repairs and transportation costs incurred. They claim they are not.

There were additional scratches on various furniture, but I guess that is part of moving, and I can live with that. I did not bother reporting it.

Getting an actual fiber to your apartment (or anything resembling a real symmetric, low latency, broadband connection) in Switzerland is ridiculously expensive. You may notice that my blog is slower to load – well, my 200/10 connection is not quite on par with the 250/250 connection I had in Sweden. And, yes, I am paying way more for my 200/10 connection than I did for my 250/250 connection.
Luckily, the Swiss, apart from being slightly overzealous in their love for documentation and papers, have been a wonder of efficiency and helpfulness. Even the customs and tax office have been super efficient and helpful. I actually like talking to government representatives here. They are exceptionally service minded and efficient!
Here is a picture I took just a few hundred yards from where I live: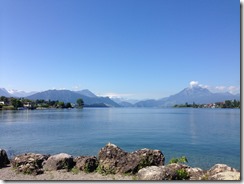 Summary
Switzerland is great so far, but horribly expensive. Also, the flag is a big plus. Literally.
UTS Pearson Home Moving was great at transporting the stuff, but horrible at dealing with problems and not very service minded.